This weekend was warm and nice with over +15C during day and clear sky, but tomorrow there will be rain and after that weather changes to cold. So this weekend was our last overnight stay at dacha, it will be too cold for anything but day-trips. I spent two days relaxing, cutting up old trees to cover strawberries and for firewood and taking photos.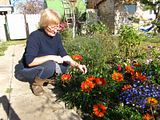 Mother with her favourite flower bed.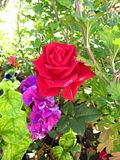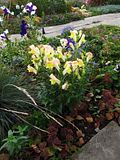 Last flowers of the year: white iris, lupine, rose, hidden in petunias, larkspur and garden snapdragons. There are still asters and dahlias, but some of them were slightly frosen and I couldn't take good photos.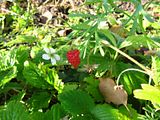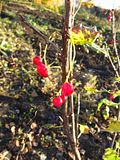 Late autumn delicacies: whatever wasn't picked up by now got even sweeter. I was amased to find some strawberries still growing, and there were some left-over redcurrant berries and some black cherries that we never bothered to pick.